Fine Dining in Saudi Arabia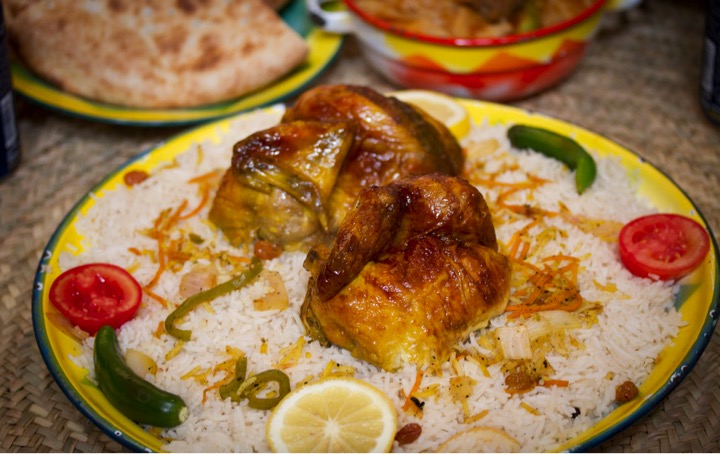 Saudi Arabian cuisine is renowned for aromas and rich flavors with a variety of dishes using only a few ingredients. Saudi food is known for its delicacy and presentation. A family eating in a restaurant in Saudi Arabia will be fully stuffed and contented in every meal. Saudi Arabians provide high significance to a feast, treat the guests as their family, and serve every plate with due respect. If connoisseurs had a chance of tasting the Arabian food, they are naturally tempted to have it again.
The staples used in an Arabian diet are rice, wheat, chick peas, lentils, pitta bread, lamb, chicken, yogurt, potatoes, and dates. Saudi Arabian dates are in the pure form and world famous. As much of the land is desert in the country, camel milk and camel meat are part of their culinary.
There have been many Islamic influences that brought changes to the Saudi cuisine. The Lebanese brought chick peas, tabbouleh (a salad), and spices that are now common in many parts of the country. Though traditional food has been the same for thousands of years, there are modern food chains in this land.
Food Regulations
Unlike other countries, Saudi Arabia has some laws and restrictions on their food and drink. During the month of Ramadan, the local folks will be fasting during the daytime. Animals may be killed and consumed only in a "halal" way. Eating pork and drinking wine are strictly prohibited in the country as per the Islamic laws. Arabian date soup or coffee is served in restaurants in place of wine.
As per the country norms, eating with an opposite sex should be strictly avoided, unless it is your spouse, child, or sibling. It is also a common practice in Saudi restaurants leaving a tip of at least 10 percent.
Common Recipes
Kabsa, which is prepared with rice, chicken, vegetables, and raisins, is the national dish of Saudi Arabia. Basmati rice is more common in all rice-based recipes. Haneeth is a dish made from rice, lamb, and spices. Other traditional dishes include Mandi (meat biryani), aseedah (wheat), Mansaf, and Manti (spiced lamb dumpling).
Food Restaurants
One of the most popular dining centers is "Assarya Turkish Restaurant" in Riyad. It is an authentic cuisine that caters its best service with a variety of delights and more vegetarian dishes. Other fine dining restaurants are Dar Al Tawhid in Mecca, Al Habibi (vegetarian friendly) in Medina, and Piatto in Jeddah. There are wine-free taverns serving drinks and special beverages.
Also, foreigners may easily find some American, Indian, Chinese, Turkish, and Iraqi cuisines in Saudi Arabia.
Special Recipes
A wide range of kababs with variations in flour, meat, or vegetables are available in the country. Kultra is a dish of lamb or chicken on skewers. Arabian Mezze is served with platters of different small dishes or starters.
You may try multicultural varieties and appreciate the finesse of Saudi Arabian cuisine that standouts for its taste, texture, and flavors!